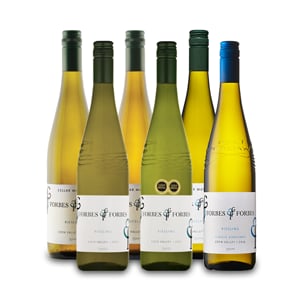 $

140.00
As you of course know, I am intensely passionate about the palate, complexity and length of flavour that a good mature Riesling can provide. With that thought in mind, I have raided the cellar and made up a Riesling pack which shows six vintages, all from the one vineyard and of course all made by me. You will be able to try the 2008, 2009, 2010, 2011 (not labelled, but signed by me), 2012 and the 2016 and see the differences caused purely by the different vintage conditions and time.
By the way, the 2008 Riesling is now virtually sold out, the only remaining bottles will go to people purchasing these packs.
There are only 10 packs available, so be quick!